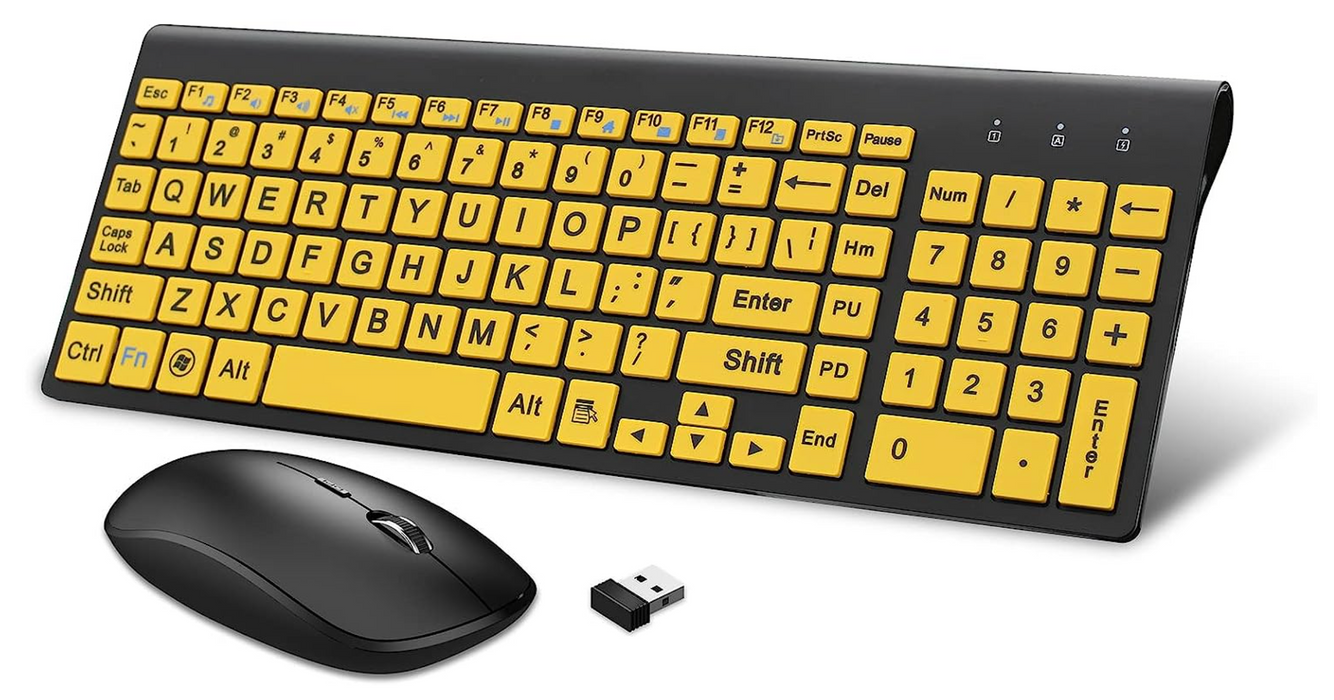 Wireless Large Print Keyboard and Mouse Combo- Yellow Print
The XL Large Print Keyboard eases eyestrain and improves typing accuracy.
High contrast, large print keyboard offers increased visibility with easy to see yellow keycaps and crisp large print black letters. These high-contrast keys can really help those who have trouble seeing keyboards. Perfect for elderly, the visually impaired, schools, special needs departments and libraries, as well as companies.
Wireless Keyboard & Mouse with One USB Receive Easy and Stable Connection to Your Devices, Save Usb Port, Just Need One 2.4G Nano Receiver to Connect to Keyboard and Mouse.(THE USB RECEIVER IS INSIDE THE KEYBORAD,NEAR THE BATTERY SLOT) Concise Style, Save Space And Portable To Carry.
Full Size & Ultra-thin Keyboar 14.5x5.8x0.2 inch with 102 Keys. Scissor-key-switch Provides Smooth Typing and Sensitive Response, Low Profile keycaps and Quiet Mouse Button.
Ergonomic Design Inclined angle, very comfortable to use it . 
The Keyboard And Mouse Combo Suits for Windows 10 / 8 / 7 / Vista / XP / 2000 / 98 |.Also works with Mac OSX and macOS.