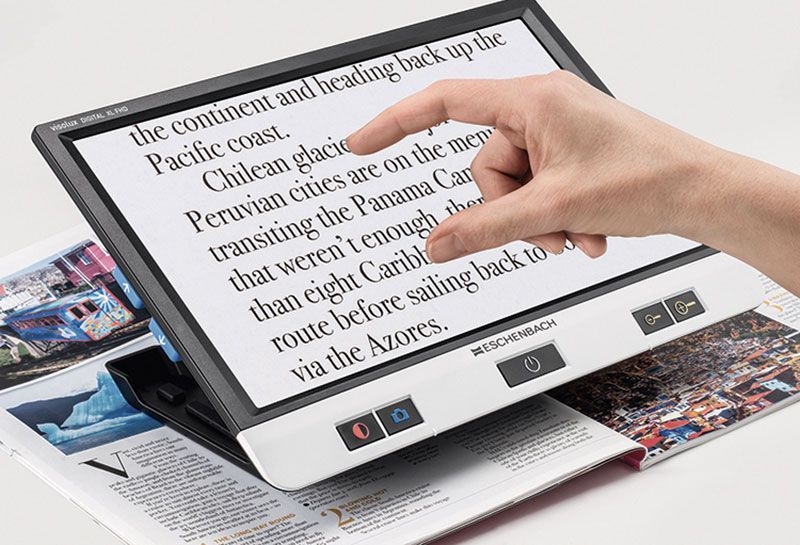 Magnifier Visolux Digital XL FHD
New Model Germany.
Magnification 2 x to 22 x.
Stand with ergonomic tilt angle.
Touch screen 12".
Assistive technology for people who are visually impaired
Advances in optical and electronic magnification enable people with impaired vision to adapt so they can return to activities they enjoy.
The
Visolux Digital XL FHD
is an advanced portable video magnifier that features a 12" TFT LCD display with touch screen interface an FHD camera, built-in stand, and many other features! The device's unique Dynamic Line Scrolling (DLS) feature allows the user to scroll both horizontally and vertically when on the higher magnification levels without having to move the device. Its FHD camera actually sees more than what's shown on the screen, making reading a book or magazine easier than ever.
Best imaging quality and operability.
Pleasant reading position.
Secure placement und guidance.
Wide field of view and true-to-life colour reproduction.
Accommodates an entire newspaper column.
Numerous false colour combinations can be selected.
Intuitive operation Ideal solution when on the go or at home.
Light-weight, compact, robust and sustained mobile use.
Can also be used as a screen reader.
Product features
High-contrast and true-to-detail, high resolution digital camera with a specially calculated lens.
Generous depth of field for variable viewing distances.
High magnification range from 2 x to 22 x (magnification on a 40-inch TV, for instance, approx. 12 x to 125 x).
Non-reflective active matrix TFT LCD screen.
16:9 widescreen format 14 contrast-enhanced false colour modes can be selected.
Dynamic Line Scrolling (DLS).
Powerful automatic exposure to compensate for ambient light.
Optical orientation aid with reading line or mask that can be activated.
Clearly arranged, easy to sense direct keys.
Graphical menu for advanced functions.
Stand with ergonomic tilt angle.
Camera mounted centrally under housing and positioning aid perceptible on housing.
Photo function with storage facility on inserted SD card.
USB type-C port for image feed to the computer (PC and Mac).
HDMI port for simultaneous display of the live image on an external display (TV, monitor or projector).
Long operating time, short charging time.
Supplied with an adapter for EU, GB, US and AUS.
Delivery includes HDMI cable, USB type-C cable, 8 GB SD card, lanyard, microfibre cloth and hard foam case.
The perfect size for stationary, hand-guided applications and still portable.
Writing under the device is possible.
Operation via direct keys or the touchscreen.
Dynamic Line Scrolling enables vertical movement of the reading area.
Easily understood speech output of all menu steps .
Additional HDMI input for connecting an external camera with live image feed.
Practical charging via the USB type-C port.
Lithium-polymer battery for up to 2.5 hours of operation.



Design Center Stuttgart.
Industrieforum Hannover IF.
Museum of Modern Art New York (MOMA).
Design Zentrum Nordrhein Westfalen.
Red Dot Award Silmo.
D´Or Award Baden-Würtemberg International Design Award, as well as various competitions and distinctions in several specialized magazines.
Why Eschenbach?
Eschenbach is world market leader for vision aids. Eschenbach guarantees innovation and brand quality "Made in Germany". Eschenbach is partner for special retailers and the first choice for better vision.