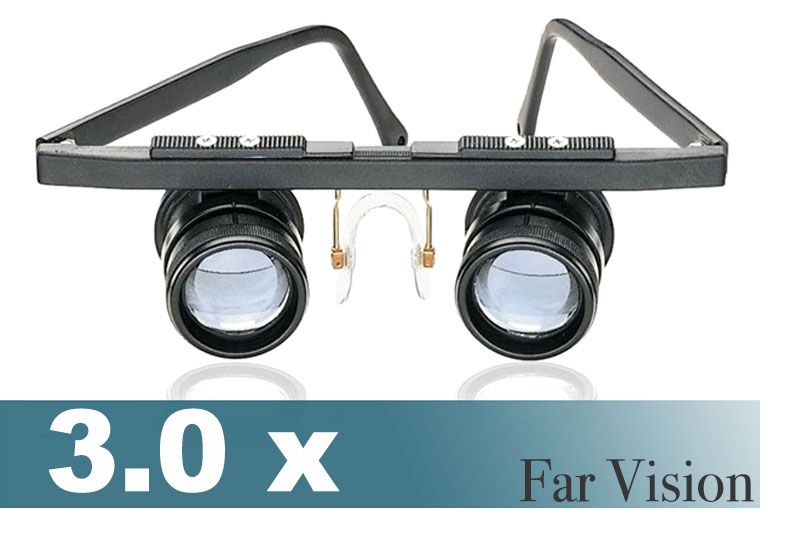 Telescopic Glasses - Far Vision - Eschenbach
Magnification: 3.0 x , 4.0 x
Lens Size: 23 mm.
Lens Type Galilean.
Lens Achromatic.
Made in Germany
Available Telescopic Glasses 3.0x or 4.0 x- Far Vision
Eschenbach Galilean telescopes for far vision systems. Galilean systems are small, lightweight optical systems that offer a bright image.
They consist of a positive objective lens and a negative ocular lens.
Frame mounted systems are ideal for extended viewing tasks, whereas hand-held systems excel spotting applications.
Special Features:
Unique adjustable frame allows the system to be fit immediately so it can be used THAT DAY! No lab required!
Adjustable bars for the pupillary distance can be locked in place simply by tightening the screws and using the included lockwasher
Frame features cold bend wire-core temples (150 mm in length) and an adjustable saddle bridge.
Magnification: 3.0 x , 4.0 x Far vision
Lens Size: 23 mm
Lens Type: Galilean
Lens Material: Achromatic Lens System
Temple Length: 155 mm
Bridge: Open Saddle
PD Range: 54-74 mm
Weight: 70 Grams