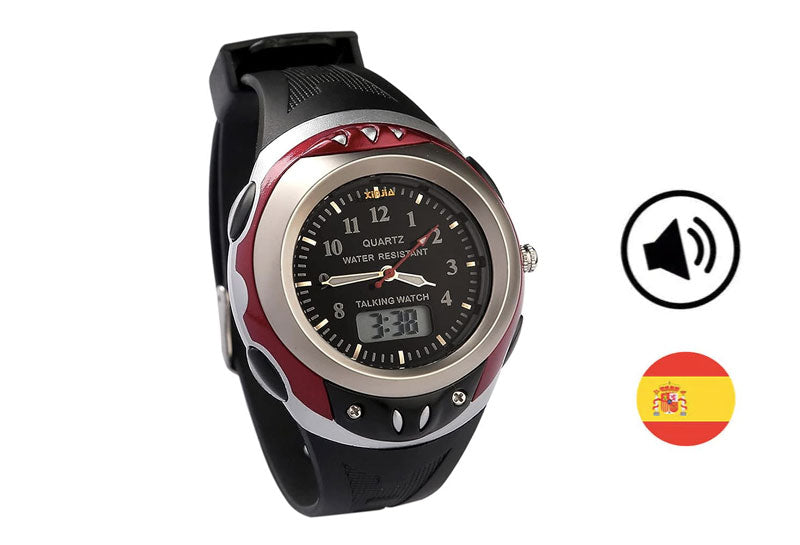 Talking Watch- Digital Sport - Spanish Voice -
Spanish female voice.
12-hour am/pm format.
Hourly chime.
Alarm with snooze.
Spanish Talking Watch for The Blind and Low Vision.
The versatile Digital Analog Water-Resistant Spanish Talking Watch offers three ways to tell the time, plus you can wear it throughout the day without concern about getting it wet Simply press a button to have the time announced in a pleasant female voice in Spanish.
Time is also displayed on the LCD, or can be read from the traditional analog clock face.
This sports watch is water-resistant and can withstand incidental contact with water, such as rain and washing your hands. It's perfect for all active lifestyles and will be especially appreciated by the blind and visually impaired.
Other features include an hourly chime, alarm with snooze and a sweep second hand.
•Time announcement in Spanish at the touch of a button
•Hourly chime plus alarm with snooze
•Analog face plus LCD display
•Water-Resistant
•Stainless steel back
FEATURES and SPECIFICATIONS:
- Resistant to rain and splashing. (Should not be submerged in water.)
- Time announcement in a clear, pleasant Spanish female voice (in 12-hour am/pm format)
- Hourly chime (may be turned off if not wanted)
- Alarm with snooze
- Choice of 5 alarm sounds: cuckoo, rooster or 3 different tunes
- 4 function buttons plus crown for setting analog time
- Analog face with hour, minute and sweep second hands
- Watch face measures approximately 1-1/8 diameter
- LCD readout with black numbers
- LCD display uses one CR2016 battery (included)
- Analog movement uses one SR626SW battery (included)
- Quartz movement for accurate timekeeping
- Stainless steel back
- Durable resin watchband