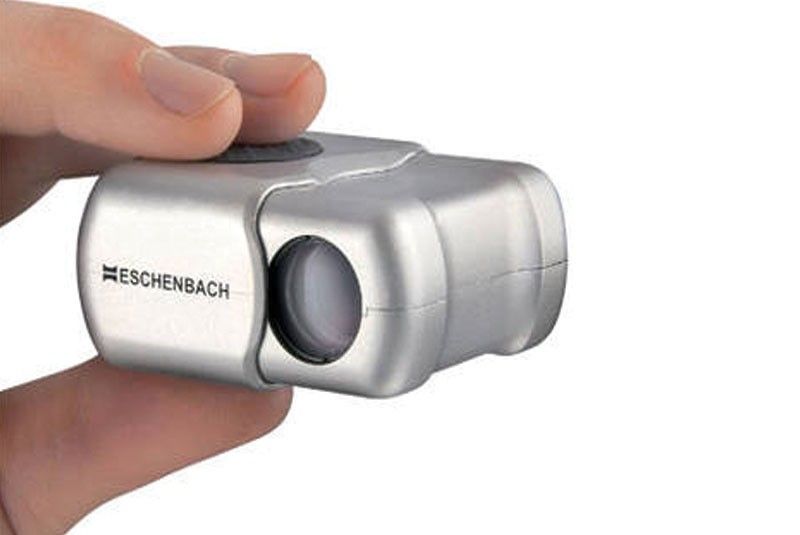 Mini Telescope Monocular Microlux 4x -Eschenbach
Magnification: 4x13.
Lens Type: Keplerian.
For Low Vision.
The keplerian monocular by Eschenbach
Designed for single-hand use, this compact monocular telescope is ideal for quick spotting tasks such as reading signs, viewing sporting events and many other leisure activities. Simply squeeze the casing once and the Microlux lens expands for use. Squeeze it once again, and the lens retracts into its protective case. The Microlux telescope is lightweight and inconspicuous making it easy to carry around in a purse or pocket. The rubber grip provides a comfortable holding position and allows for single handed use. The keplerian roof prism system features blue multi-coated lenses and provides a 13 degree field of view with a fixed focus. An additional feature includes the ability to use it in reverse so that it acts as a field expander, which will prove ideal for those with restricted visual fields.
This telescope offers a compact design-only 48 mm x 25 mm x 38 mm when closed. It is designed to open by simply squeezing the device with the thumb and forefinger and the closing mechanism requires just a single squeeze. Designed for single-handed use, it fits easily in pocket or purse. It has a rubber exterior at the grip that prevents slipping, and its fully coated optics provide a bright image.
Lens Material: Achromatic Glass
Lens Coating: Multi-Coating
Mount: Rubberized Coating
Lens Size: 0.51 in.
Focal Range: 1 m+
Field of view: 13 degrees
Weight: 2.25 oz.
Dimensions: Open: 2'' x 1'' x 2'' (LxWxH)
Closed: 2'' x 1'' x 1.25''
Accessories: Includes case and wrist strap