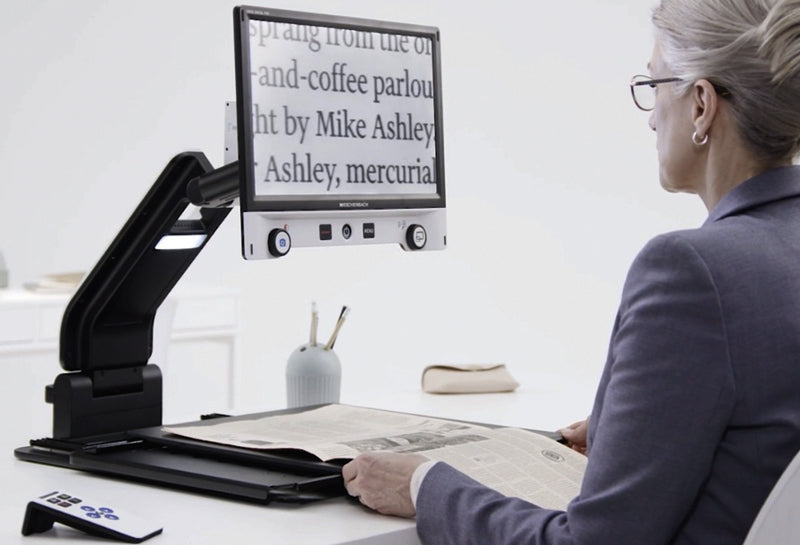 Magnifier Vario16 Digital FHD Battery + Table + Remote Control -Eschenbach
Magnification: 1.3x to 45x.
Illumination: LED .
Base:

X/Y Table with adjustable breaks

Rechargable Battery
Weight: 19 lbs.
Screen/Display Size: 16''.
Battery +Table + Remote Control / Vario Digital FHD
The Vario Digital FHD Advanced X/Y Table is a foldable desktop video magnifier with outstanding image quality, compact design and advanced settings. Like the Vario Digital FHD, it features a 15.6" Full HD monitor with 1.3x - 45x magnification, an FHD camera and, plus it has an external remote. The integrated X/Y table comes in place of the standard base plate so that reading material can be maneuvered underneath the camera more easily. The table allows for horizontal and vertical movement and has adjustable breaks.
Functions can be controlled by the large tactile buttons and turn dial controls on the monitor or the remote control. Bright illumination is provided by two sets of LED lights and the 16:9 widescreen format and tilting camera provide an extended viewing area for reading large documents.
Images can be captured and stored on a removable 8GB SD card and viewed either on the LCD screen or on an external computer monitor. The blue arrow buttons on the sides of the monitor and on the remote can be used to operate the Dynamic Line Scrolling feature which allows images to be scrolled through horizontally and vertically without moving the reading material.
The Vario Digital FHD Advanced features a Mirror Mode which allows the user to see an enlarged image of themselves on screen for personal care tasks and an HDMI-in port that allows for an external camera to be attached for distance viewing. Distance viewing accessories are available (see back).
Overall, the intuitive operation, practical folding design and dynamic features of the Vario Digital FHD Advanced make it an ideal desktop video magnifier for the visually impaired.
Specs:

• Magnification: 1.3x to 45x.
• Illumination: LED illumination with 3 brightness settings (100%, 75%, 50%).
• Power Source: Rechargeable Battery - 3.5 hour charge time; 4.5 hour operating time
• Base:  X/Y Table with adjustable breaks
• Remote control 
• Weight: 19 lbs..
• Dimensions: 14.9'' W x 18.1'' D x 22'' H (5.2'' high when folded down).
• Screen/Display Size: 15.6''.
• Viewing Modes: 14 color contrast modes.
• Image resolution: 1000 : 1 Contrast Ratio.
• Miscellaneous: Speech output on all menu options (5 language options), USB cable included for downloading images to a MAC/PC, Auto shut-off after 8 hours (15 minute setting available).
Why Eschenbach?
Eschenbach is world market leader for vision aids.
Eschenbach guarantees innovation and brand quality "Made in Germany".
Eschenbach is partner for special retailers and the first choice for better vision.