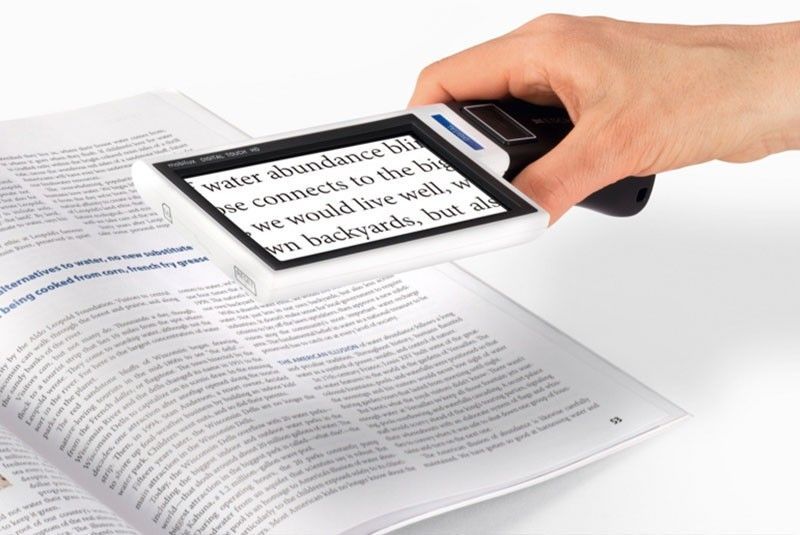 Magnifier Touch HD - ESCHENBACH
Recommended forVision Loss.
Screen: 4.3 in HD TFT LCD.
Touch screen with anti-glare.
Illumination: LED.
Magnification: 4x to12x.
Magnifier Touch HD For on the move and at home ¡
This innovative magnifier is portable and when connected to a computer offers the functionality of a screen-reading device. The non-reflective 4.3 inch display ensures relaxed reading - operation takes place via touchscreen.
The Mobilux Digital Touch HD (Product # 1651-1) is a new portable video magnifier featuring a 4.3" HD TFT LCD screen with anti-glare coating and LED illumination!
Three brightness settings, adjustable 'lines & blinds' for precise page orientation, and various tone settings will ensure a comfortable, accurate visual experience for users.
The Mobilux Digital Touch HD provides time and date information, has an automatic shut-off feature after 5 minutes of non-use to save battery power, and 5 contrast modes so users can customize the colors of the text and backgrounds to their individual needs.
Magnification powers range from
4x to 12x
and include the middle range powers of 5x, 6x, 8x, and 10x. The magnification steps can also be programmed to be smaller or continuous zoom can also be chosen. The Mobilux Digital Touch HD has a 4GB SD card that stores photos, which are downloadable to a PC or Mac computer through the included USB connection.
The Internal Memory will store 75 images. When connected to a PC, a live image of what is seen on the Mobilux Digital Touch HD can also be seen on a computer monitor.
The run time is approximately 3 hours and the recharge time is 2 hours. The weight is 8 oz making it very portable. A zippered, crush-proof protective case is included, along with a cleaning cloth and wrist strap.
Specs
Screen: 4.3 in HD TFT LCD touch screen with anti-glare coating
Illumination: LED
Magnification: 4x, 5x, 6x, 8x, 10x, 12x; smaller steps & continuous zoom are also possible
Contrast Modes : 5 color contrast modes
Image Store: Yes, on removable SD card
Image Downloadable: Yes, to computer via USB cable
Weight: 8 oz
Run Time: 3 hours
Recharge Time: 2 hours
Case: Yes, zippered crush-proof case with cleaning cloth
Internal Memory: Stores 75 images
Digital magnifiers are also known as electronic magnifiers, video magnifiers, for low vision people