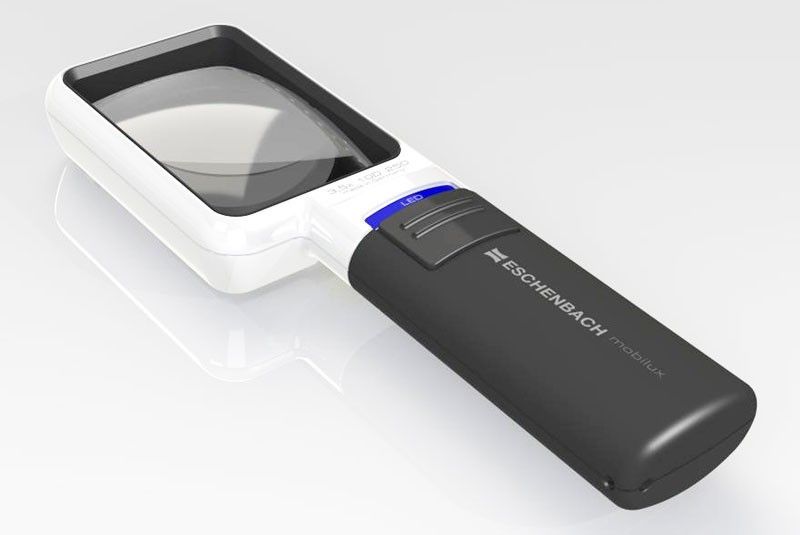 Magnifier Mobilux LED 3.5 x ESCHENBACH
Magnification: 3.5 x
Diopter: + 16 D.
Illumination: SMD LED.
Lens Size: 75 x 50 mm.
Lens Type: PXM
Aspheric (no Cera-Tec coating due to diffractive lens type)
The best Magnifier of the World
The new Mobilux series of illuminated hand-held magnifiers features LED illumination with many new benefits! SMD LED (light emitting diode) illumination provides an alternative light source preferred by many people due to its distinctly whiter spectrum and longer useful life. In addition to the bulbs offering nearly unlimited life (50,000 hours!), the batteries last 5 times as long as when used with incandescent bulbs! These features provide lower usage costs and make the magnifiers even easier to use!
To soften the color of the light small yellow filters are included which can be snapped-on over the LED bulbs to provide an illumination option.
Additional features of the new Mobilux include:

- A comfortable, ergonomic handle with a large, easy-to-operate ON/Off switch
- A battery compartment that uses high quality springs that makes changing the batteries a snap and a cover that opens and closes easily
- A complimentary protective case that protects the lens cover and 2 AA batteries
Step-up Technology
The step-up converter provides consistent illumination over time because the power supply of the LED is evenly regulated—this provides an efficiency level of more than 80%! Plus, this active miniature switching regulator helps to provide bright illumination—over 50% brighter than the competition!
Magnification: 3.5x
Diopter: +10D
Illumination: SMD LED
Lens Size: 75 x 50 mm
Lens Type: PXM
Case: Protective case Included
Case Material: Leatherette
Power Source: 2 AA Batteries (Included)
Mount: Ergonomic with easy on/off switch
Lens Material:

Aspheric (no Cera-Tec coating due to diffractive lens type)
Thousands of eyecare and vision rehab professionals consider Eschenbach their first choice when recommending low vision solutions to their patients and clients and hundreds of thousands of consumers rely on Eschenbach products to help them maintain an independent lifestyle and a greater quality of life. Whatever the magnifying need, Eschenbach has the solution.