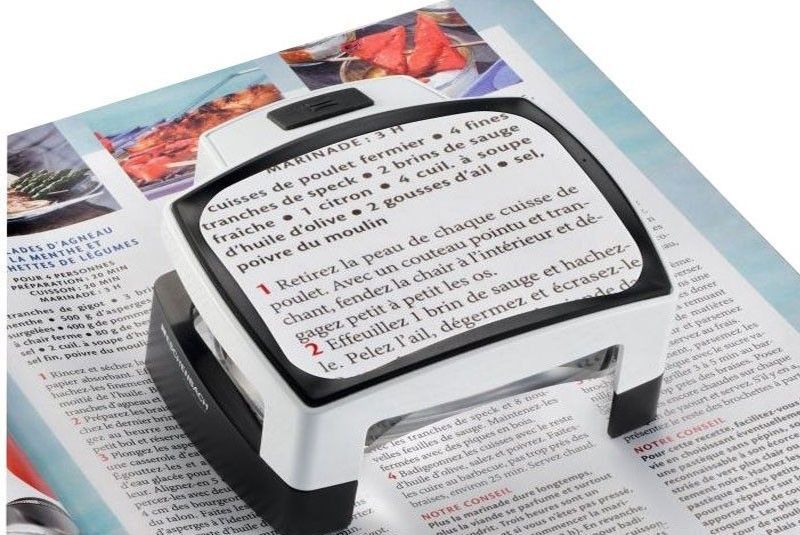 Illuminated Stand Magnifier Visolux by Eschenbach -1566
Magnification 3.0 x.
Lens 100 x 75 mm.
Double Lens.
Made Germany.
The Visolux+ is a new, illuminated stand magnifier from Eschenbach
Many features that will please users including its greatest benefit: a large, distortion-free viewing area illuminated with bright LEDs. The VisoLux+ is easy to use. Simply push the ON button, place it over reading material, photos, coins, or stamps, and you're ready to go!
It has a unique, double lens system that features a patented hard coating that makes the lenses nearly glass hard. This coating minimizes scratches so text and images appear crisp and clear—the coating also extends the useful life of the product as well.
The field of view is larger than most stand magnifiers – a full 100 x 75 mm or 4 by 3 inches, which means users will be able to see many more words at one time than comparable 12 Diopter lenses without having to move the magnifier. This makes reading newspapers or magazine articles that much easier without losing your place on the page.
The VisoLux+ contains 2 bright SMD-LEDs that provide uniform illumination over the entire field of view. There are two color options to choose from – standard bright, white light and a softer orange light which can be selected by sliding the built-in filter over the LEDs.
Users can choose the type of light that works best for them according to their needs and environment.
Another feature is the tilted lens, which helps keep the user in a comfortable viewing position for long periods of time without any neck strain.
The VisoLux+ automatically switches itself off after 30 minutes of non use to prevent the batteries from draining power. Three double A batteries are included with the product, and changing the batteries is a quick and easy process. Also included is protective case that allows users to store the VisoLux+when it is not being used.
The VisoLux+ is made of high quality material and as such, Eschenbach offers a lifetime warranty on the product against any manufacturer's defects.
All of these features mean the VisoLux+ will prove to be an ideal solution for those who need an illuminated stand magnifier for reading and viewing small objects
| | |
| --- | --- |
| BRAND | Eschenbach Germany |
| ILLUMINATION | SMD LED |
| LENS MATERIAL | PXM Plastic |
| LENS TYPE | Aspheric |
| POWER / MAGNIFICATION | 3.0 x |
| POWER SOURCE | AA Batteries |
| SIZE | 100 x 75 mm |
Eschenbach has introduced such important innovations as the first illuminated magnifier, the first injection-molded aspheric lens, the first application of diffractive optics to low vision, and the first all-plastic telescopic system for the visually impaired. Innovation is part of the fiber of Eschenbach's culture, leading to greater and better solutions for our customers.