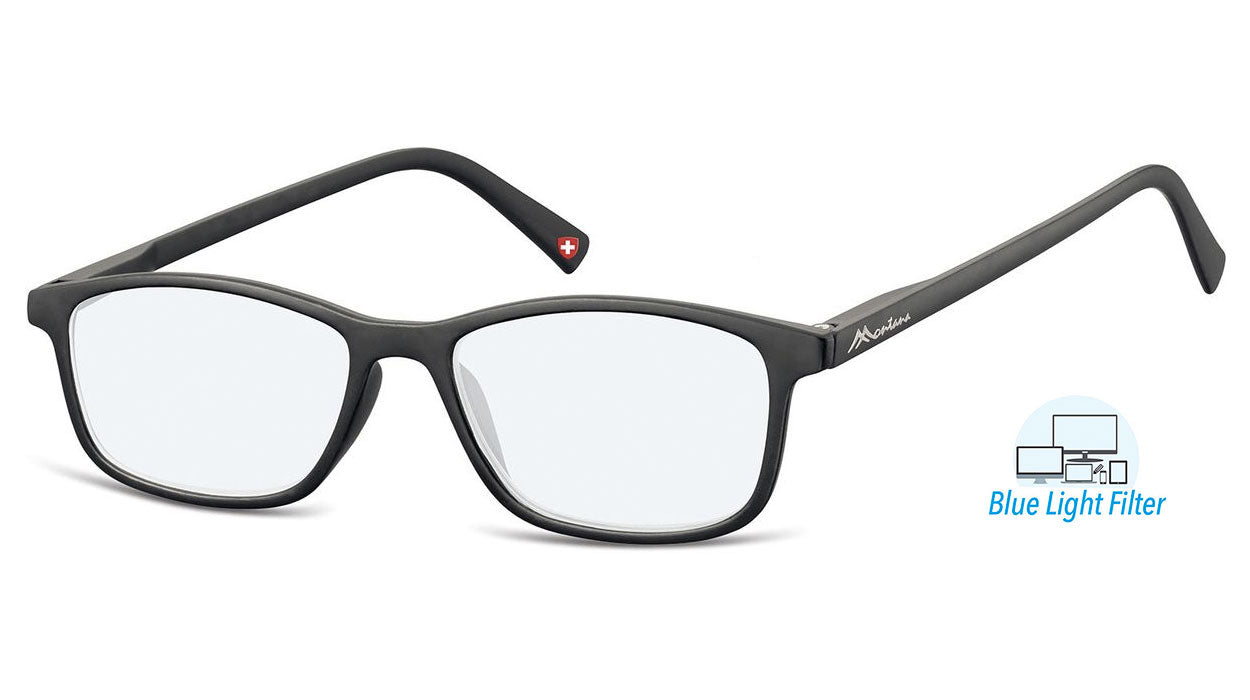 Glasses for Computers Blue Filter
The Montana Readers eyeglasses:
Lensbox size: 52 mm.

Temple size: 140 mm.

Bridge size: 16 mm.

Hinge Flex.

Blue light filter.
Hinge flex.
Lens type aspheric.
 
Reader Glasses with Special Filters PC
Glasses for computers with a blue filter will protect you from the blue light emitted by digital screens or if you are watching television, using your smartphone or tablet
Overexposure to blue light affects our sleep, productivity, and overall health. This often leads to digital eye strain causing: eye strain, dry eyes, headaches, and blurred vision. On average, people spend more than 8 hours a day in front of blue light-emitting digital devices.
Availables: Neutro +1.00 to +3.50 Diopt.
It is important. If your eyes are exposed to digital screens for a long time, your visual health may be affected.
For this reason, it is necessary to use computer glasses to avoid blurred vision, tired eyes, itchy eyes, or headaches.
Computer glasses with a blue filter reduce blue and violet light from screens and fluorescent lights, you can buy them without prescription or with prescription.
THE SYMPTOMS OF DIGITAL STRESS
Headaches, sore or tired eyes, and a stiff neck are symptoms of eyestrain. Spending most of our waking hours in front of the device's screens makes our eyes (and our bodies) wear out. At the same time, the BLUE light from our computers, phones and tablets makes our eyes not only work harder, but also put them at risk of aging faster
WHAT IS BLUE LIGHT?
Blue light is a harmful portion of the light emitted by digital displays. According to the Paris Vision Institute, younger people exposed to excessive amounts of blue light can begin to experience age-related macular degeneration at an earlier stage. Other research claims that overexposure is also the leading cause of vision loss for people over 50.